Summer Squash (Courgette) with Bacon
Total time: 20 minutes
    A bit of salty bacon and sweet red onion adds big flavor to simply sautéed summer squash.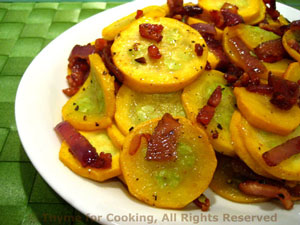 Ingredients:
1 courgette (summer squash, zucchini), about 8" (20cm) long
2 slices bacon
1/2 red onion 
2 tsp olive oil
 Instructions:
Slice the blossom end off of the squash, then slice it into 1/4 inch (.5 cm) rounds. 
Roughly chop onion.
Heat the oil in a nonstick skillet over medium heat. 
Add bacon and sauté until crisp.  Remove and set aside. 
Remove all but 2 tsp fat from skillet. 
Add onion and sauté until tender and starting to brown.
Add squash slices and stir fry until they just start to soften.
Crumble bacon and add to squash.
Cover, remove from heat and let rest 1 - 2 minutes to finish.  Stir and serve.