Soy Sauce / Mustard Turkey Cutlets
Potato-Tomato Gratin
Sautéed Chard with Red Pepper
Sautéed Chard with Red Pepper
Total time: 15 minutes
   Rainbow Chard, Red Pepper and Onion makes a colorful, flavorful side dish that is stir-fried quickly.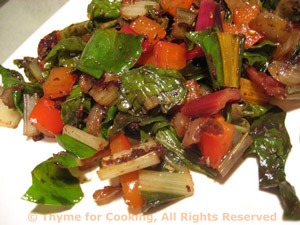 Ingredients:
6oz (180gr) chard   

Swiss chard

1/2 red pepper
1 onion
1/2 tsp dried oregano
2 tsp olive oil
1 tsp soy sauce
1 tsp Balsamic vinegar
 Instructions:
Wash the chard and trim any bad bits. 
Stack the leaves together and fold over, the long way.  Slice into thin strips, using both leaves and stems, but keeping the stems separate. 
Roughly chop the pepper and onion.
Heat oil in a large skillet.  Add the onion, pepper, and chard stems.  Stir-fry over medium heat until onion is transparent and vegetables start to get tender, about 8 minutes. 
Add the chard leaves, oregano, and stir until the leaves soften and fit into the skillet.
 Cook another 2 - 3 minutes. 
Stir in vinegar, soy sauce, and serve.