Cauliflower Dijon
Total time: 30 minutes
    A light coating of bread crumbs, herbs and mustard flavors this cauliflower. For a sharper flavor use hot mustard.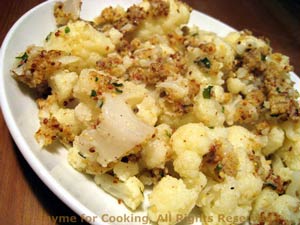 Ingredients:
1/3 head cauliflower- enough for 2 persons
1 tbs olive oil
1 clove garlic
1 tsp dried basil
1 tbs whole grain mustard or Dijon-style mustard
1 tbs bread crumbs
 Instructions:
Cut cauliflower into pieces, put into a steamer and steam over water for 15 - 20 minutes until fork-tender. 
Remove and drain water from pan. 
In same pan heat oil. 
Mince garlic. 
Add garlic and basil, sauté lightly. 
Add mustard and heat through. 
Add breadcrumbs and stir well. 
Add cauliflower and stir well to distribute crumb mixture.  Serve.