Cream of Mushroom Soup
Seared Scallops with Browned Shallots
Winter Rice Pilaf
Cauliflower with Butter and Herbs
Cauliflower with Butter & Herbs
Total time: 30 minutes
  Often, simple is best!  The first time I tasted cauliflower (my mother never fixed it) I was convinced it tasted just like sweet corn.  Plain, with butter, is still my favorite way to eat it.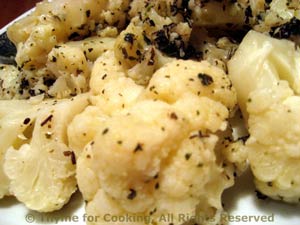 Ingredients:
1/3 head cauliflower  

enough for 2 persons

2 tbs butter
1 tsp dried basil
 Instructions:
Cut cauliflower into pieces, put into a steamer and steam over water for 15 - 20 minutes until fork-tender. 
Remove and drain water from pan. 
In same pan melt butter. 
Add herbs, sauté lightly.
Pour over cauliflower and serve - adding salt & pepper if desired.