Mushrooms Stuffed with Bacon and Tomato
Seared Scallops with Prosciutto on Tarragon Cream
Potato Gratin a la Two Fat Ladies
Braised Carrots and Onion
Braised Carrots and Onions
Total time: 30 minutes
   Sautéed onions and chicken stock bring out the natural sweetness of carrots as well as making this common vegetable a bit more interesting.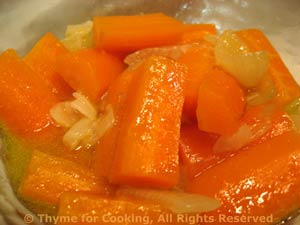 Ingredients:
2 - 3 carrots depending on size and hunger
1/2 onion
1/3 cup (3oz, 90ml) chicken stock
1 tbs olive oil
 Instructions:
Peel carrots, cut in half, then each half again so you have carrot sticks. 
Cut onion 'half' in half again (vertically) and slice thickly - 1/4 inch (you will have 'quarter slices'). 
Heat oil in saucepan.  Add onions and sauté until tender and starting to brown. 
Add carrots and stock. 
Cook, covered, 15 - 20 minutes or until vegetables are done. 
Remove cover, drain and serve.