Spinach White Bean and Red Pepper Salad
Seared Tuna with Mustard Sauce
Quinoa
Snow Peas and Carrots
Sautéed Snow Peas (Mangetout) with Carrots
Total time: 20 minutes
   Remember canned Peas and Carrots?  This isn't it....  Stir-frying is a method of cooking, not a cuisine. Nothing says we can't use maple syrup rather than soy sauce as our flavoring.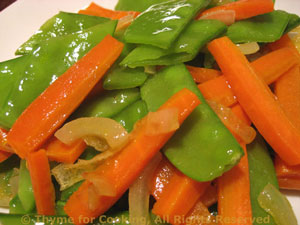 Ingredients:
 Instructions:
Cut carrots into matchsticks.
Slice onion.
Trim snow peas, cutting off the stem end.  Slice diagonally into wide strips if large.
Heat oil in a nonstick skillet over medium-high heat.
Add carrot and onion; stir-fry about 5 minutes.
Add snow peas and stir-fry another 3 minutes. 
Add maple syrup and chicken stock, reduce heat to low, cover and simmer 3 minutes.
Uncover and cook off any liquid. 
Carrots should be just tender.  Serve.