Courgette (Zucchini) Soup
Grilled Scallops with Lemon Ginger Sauce
Basmati Rice with Lemon and Chives
Ginger Glazed Carrots
Ginger Glazed Carrots
Total time: 20 minutes
    Ginger and sugar pair well with carrot's natural sweetness.... The ginger giving an extra kick to the butter and sugar glaze.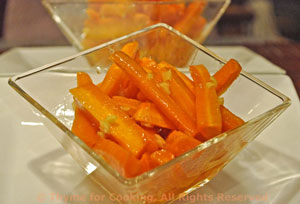 Ingredients:
 Instructions:
Cut carrots into sticks. (see techniques).
In a medium nonstick skillet melt the butter over medium heat. 
Add carrots, ginger, and sugar, (salt & pepper if using).  Stir fry for 2 minutes. 
Add just enough water to barely cover the carrots, turn the heat to medium-high, cover and bring to a boil. 
Remove cover and cook, stirring occasionally until water is gone, 6 - 8 minutes. 
Cook another minute or 2 after water evaporates to caramelize the sugar.