Spinach Salad with Sautéed Chicken Livers
Pork Loin Braised with Apples and Onions
Roasted Potatoes
Balsamic Glazed Carrots
Balsamic Glazed Carrots
Total time: 25 minutes
    The sweetness of the carrots pairs perfectly with the richness of the Balsamic vinegar.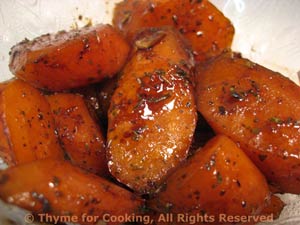 Ingredients:
2 - 3 carrots
1/4 cup (2oz, 60ml) chicken stock
1 clove garlic
1/2 tsp dried thyme
1 tbs Balsamic vinegar
 Instructions:
Peel carrots and roll cut: cut the end off of the carrot at an angle, roll carrot 1/4 turn and cut next piece about 3/4 inch away at an angle, roll 1/4 and cut next piece, etc.  This gives you interesting looking pieces with lots of surface. 
Put carrots and stock into a small saucepan or nonstick skillet. 
Bring to a simmer over medium heat.  Reduce heat, cover and let simmer until done, 10 - 15 minutes.
Remove carrots from pan and add garlic and thyme. 
Increase heat and reduce liquid to about 1 tbs.  
Add vinegar, stir well to combine.  
Return carrots to pan, stir well and cook for 2 minutes longer.  Serve.