Carrots with Dill
Total time: 15 minutes
   Sliced carrots, quickly braised in chicken stock and dill, and finished with a dollop of Greek yogurt.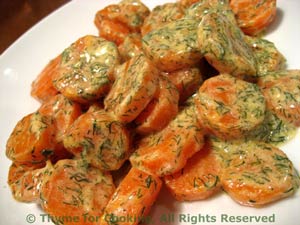 Ingredients:
3 carrots
1/3 cup (3oz, 90ml) chicken stock
2 tsp dried dill weed
2 tbs greek yogurt
 Instructions:
Peel carrots and cut into rounds about 1/4" (.6cm) thick.
Put carrots, stock and dill into a small saucepan or skillet.
Bring to a simmer over medium heat.  Reduce heat and let simmer until just tender, about 8 minutes. 
Uncover and cook off all but 1 tbs stock.
Remove from heat, stir in yogurt and serve.