Sautéed Endive with Avocado
Scallops Provençal
Quinoa with Browned Shallots
Brussels Sprouts with Lemon Butter
Brussels Sprouts with Lemon Butter
Total time: 15 minutes
    Lemon add a fresh taste to vegetables and goes well with thyme. The sprouts are cooked quickly to prevent the strong, bitter taste common to overcooked cruciferous vegetables.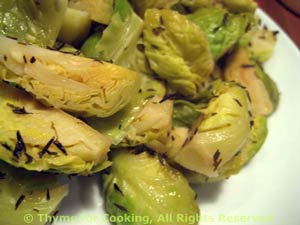 Ingredients:
 Instructions:
Trim Brussels sprouts: slice a bit off of the stem end and peel away the outer leaves - any that are damaged, wilted or discolored. 
Cut each sprout into quarters. 
Put the sprouts into a medium skillet, add water to the depth of 1/4" (.5cm), cover and cook until just tender when pierced with a knife, about 8 minutes.
Uncover and pour off water.
Return pan to heat and add butter.  Stir to coat sprouts and sauté 1 minute. 
Add herbs, lemon, salt & pepper and sauté, stirring for 1 minute longer.