Christmas Day Dinner or Christmas Lunch For 4
Smoked Salmon Salad
Glazed Ham with Mustard Sauce
Scalloped Potatoes
Brussels Sprouts with Chestnuts
Bûche de Noël recipe not included
Brussels Sprouts with Chestnuts
Total time: 50 minutes
    This is a classic on British holiday tables.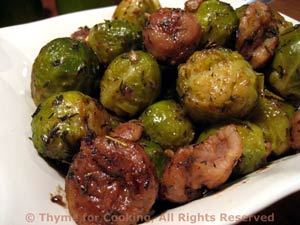 Instructions:
20 - 25 Brussels sprouts -

I normally serve 6 - 8 per person

18 - 24 chestnuts, fresh or canned
2 cups (16oz, 480ml) beef stock  

if using fresh chestnuts

1/2 cup (4oz, 120ml) beef stock   

if using canned chestnuts

3 tbs butter
1 tsp thyme
sea salt and fresh pepper
 Instructions:
If using fresh chestnuts:

  With a sharp knife cut an 'X' through tough outer shell.
Put in a saucepan and cover with water.  Bring to a boil over medium-high heat.
Reduce heat to medium-low and boil for 5 minutes.
Remove pan from heat.  Removing 1 chestnut at a time peel off shells and inner skin. Chestnuts must stay hot to peel easily.  If they cool down too much while you are working, bring them to a boil again. 
Put peeled chestnuts into a saucepan, cover with beef broth, bring to a simmer over medium heat and simmer for 15 minutes, until tender.
Drain.

If using canned chestnuts:

  Rinse and drain.

To cook Brussels sprouts:

Slice a bit off of the stem end and peel away the outer leaves - any that are damaged, wilted or discolored.
With the tip of your knife make a small X in the stem end - that, supposedly, aids even cooking.
Put into a saucepan with 1/2 cup beef stock, and enough water to almost cover.  Cover and bring to a boil.
Reduce heat and simmer until done, 10 - 15 minutes.  They should be just tender when pierced with a sharp knife. 
When done remove, drain and set aside. 
Both steps can be done earlier in the day and finished at the last minute.

To finish:

Melt butter in a medium saucepan over medium heat.
Add thyme and pepper and combine.
Add sprouts and chestnuts and sauté about 5 minutes (longer if sprouts and/or chestnuts are cold).
Sprinkle with salt and serve.
Sautéed Leftover Brussels Sprouts and Chestnuts
Total time: 25 minutes
     Simply sliced or chopped and fried until light brown, a great way to reheat the leftovers.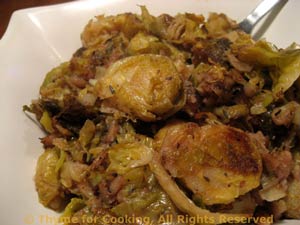 Ingredients:
leftover sprouts and chestnuts
1 onion or shallot
1/2 tsp thyme
2 tsp butter
2 tsp olive oil
 Instructions:
Peel and thinly slice onion.
Slice sprouts

(they'll kind of shred)

and chestnuts

(they may crumble)

.
Heat butter and oil in medium nonstick skillet over medium heat.  Add onion and sauté 15 minutes or until lightly browned.
Add sprouts, chestnuts and thyme and sauté another 5 - 10 minutes or until heated through and starting to brown. 
Remove, sprinkle with salt and pepper if desired and serve.