Spaghetti with Ginger Meatballs
Brussels Sprouts with Butter and Pepper
Buttered Brussels Sprouts  
Total time: 25 minutes
    Sometimes simple is best.... Or, at least, as good.  Lightly steamed Sprouts, tossed with butter, thyme and salt.  Simple, delicious.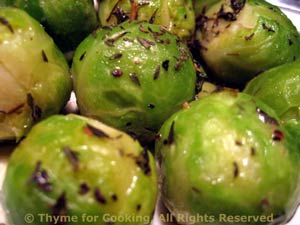 Ingredients:
12 - 16 Brussels sprouts  

I normally serve 6 - 8 per person

1 tbs butter
1 tsp dried thyme

salt & pepper -seasoned pepper is good
 Instructions:
Trim Brussels sprouts: slice a bit off of the stem end and peel away the outer leaves - any that are damaged, wilted or discolored. 
With the tip of your knife make a small X in the stem end - that, supposedly, aids even cooking. 
Put in a steamer basket over an inch of water and steam for 12 - 15 minutes, after water is boiling, or until done.  They should be tender when pierced with a sharp knife but do not overcook. 
When done remove basket and empty water. 
Return pan to heat and melt butter. 
Add herbs, salt & pepper. 
Return sprouts to pan and sauté stirring for 1 - 2 minutes.  Serve.