Stir-Fried Broccoli
Total time: 15 minutes
    Broccoli is often included in with beef or chicken in stir-fries, but it's excellent stir-fried on it's own as a side dish, as well.  Plus it's bright green color looks lovely on the plate.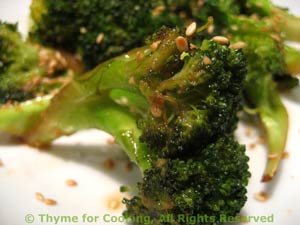 Ingredients:
1/2 head of broccoli
1 clove garlic
1 tbs olive oil
1 tsp sesame oil or walnut oil
2 tbs chicken stock
2 tsp soy sauce
1/4 tsp ground ginger
1 tsp sesame seeds
 Instructions:
Cut broccoli into bite size florets and stems.
Mince garlic.
Heat oils in a nonstick skillet over medium-high heat.  Add broccoli and garlic and stir-fry about 5 minutes.
Add soy sauce, chicken stock and ginger, reduce heat to low, cover and simmer 5 minutes.
Uncover and cook off any liquid.  Broccoli should be crisp-tender.
Sprinkle with sesame seeds and serve.