Pork Chops with Peppers and Olives
Potatoes Savoyard
Broccoli with Garlic Butter
Broccoli with Garlic Butter  
Total time: 20 minutes
    A bit of garlic and butter can really bring out the flavor of broccoli and raise it from the mundane to the fantastic!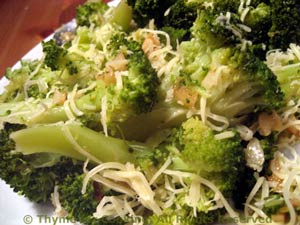 Ingredients:
1/2 head broccoli   enough for 2 persons
2 tbs butter
3 cloves garlic
2 tbs shredded cheese
 Instructions:
Cut broccoli into bite size florets and stems.
Put in steamer basket in saucepan with an inch of water in bottom.  Put on medium heat and steam for 12 - 15 minutes or just until done, careful not to overcook. 
Remove from pan and set aside, discarding water.
In same pan heat butter.
Mince garlic and add to pan.
Sauté briefly, then add broccoli.  Toss well to coat.
Put broccoli into the serving dish, sprinkle with cheese and serve.