Hunter's Eggs
Baked Salmon with Lemon Mayonnaise
Creamy Polenta with Bacon and Sage
Broccoli with Butter and Herbs
Broccoli with Butter and Fresh Herbs
Total time: 20 minutes
    Butter and fresh chives are a simple finish for broccoli.  Any fresh herbs will work, but my choices would be chives or thyme. Use dried herbs when fresh are not available.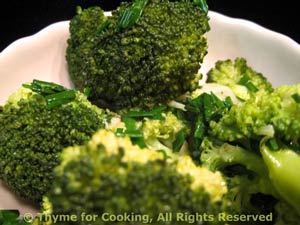 Ingredients:
1/2 head of broccoli  

enough for two

1 tbs butter

1 tbs chives

substitute 1 tbs dried
 Instructions:
Cut broccoli into bite size florets and stems. 
Put in a steamer basket in a saucepan with an inch of water in bottom.  Put on medium heat and steam for 10 - 12 minutes or until done. 
Remove from pan and set aside, discarding water. 
In same pan heat butter. 
Add chives and sauté lightly. 
Add broccoli and stir.  Serve.