Tomato Consommé
Grilled Hens with Molasses Glaze
Pesto Potato Salad
Green Beans with Butter and Pine Nuts
Green Beans with Butter and Pine Nuts
Total time: 20 minutes
  I like the flavor pine nuts add, just sprinkling a few on a vegetable or salad can turn a plain dish into something a little more special.  Quickly sautéing them in butter adds a light toasting.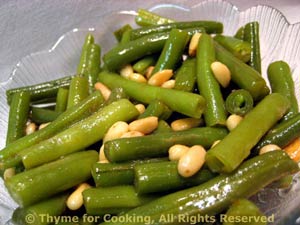 Ingredients:
6oz (180gr) green beans
1 1/2 tbs butter
1 tbs pine nuts
Salt and pepper to taste
 Instructions:
Put an inch of water in the bottom of your steamer and bring to a boil, covered. 
Top and tail beans... cut off the ends.  Cut into 1 1/2 inch lengths (4cm) or leave whole. 
Add beans to steamer when water is boiling.  Cover and steam for 10 minutes. 
Uncover and taste a bean.  If not done leave in for another 1 - 2 minutes.  If done, remove beans and spread on a plate to cool slightly and stop cooking. 
Heat medium nonstick skillet over medium heat.  Add pine nuts and toast, shaking pan occasionally until golden, 4 - 5 minutes. 
Add butter and beans.  Heat through. 
Add salt and pepper to taste and serve.