Orange Glazed Turkey Cutlets
Basmati Rice Pilaf
Green Beans with Mushrooms
Green Beans with Mushrooms
Total time: 25 minutes
   Sautéed mushrooms and onions top these green beans, that are lightly flavored with soy sauce.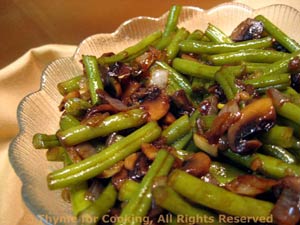 Ingredients:
6oz 180gr) green beans
2oz (60gr) mushrooms
1/2 onion
1 clove garlic
1 tsp butter
1 tsp olive oil
1 tsp soy sauce
 Instructions:
Top and tail beans... cut off the ends.  Cut into 1 1/2 inch lengths (4cm) or leave whole. 
Put beans, 1/4 cup of water into a small saucepan, cover and simmer until done, 10 - 15 minutes.  If beans dry out add a little more water. 
While beans cook:
Chop onion. 
Clean and chop mushrooms. 
Mince garlic. 
Heat butter and oil in small skillet.  Add onion and sauté until tender, about 5 minutes. 
Add garlic and mushrooms and sauté until everything is light brown, about 10 minutes longer.
When beans are done, drain and add to the skillet along with the soy sauce.  Stir well to combine and serve.