Grilled Chicken Breasts, Orange Mustard Glaze
Lemon Garlic Basmati
Butter Braised Green Beans
Butter Braised Green Beans
Total time: 20 minutes
     This is the easiest and freshest way to serve just-picked green beans. The olive oil keeps the butter from burning and the beans give off enough liquid when covered to braise nicely without sticking.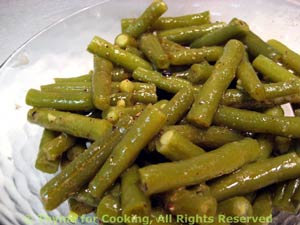 Ingredients:
6oz (180gr) green beans
1 1/2 tbs butter
1 tsp olive oil
 Instructions:
Top and tail beans... cut off the ends. 
Cut into 2 inch lengths (5cm) or leave whole. 
Put beans, butter, olive oil in a small skillet and sauté over medium heat for 5 minutes. 
Cover, reduce heat and braise until done, 5 - 10 minutes longer, depending on thickness of beans.