Zucchini (Courgette) Timbales with Pimiento Sauce
Not-Quite-Naked Steaks
Roasted Potatoes with Basil Butter
Green Beans with Almonds
Green Beans with Almonds
Total time: 25 minutes
    Simple yet classic preparation, 'Amandine'.  I like to work nuts into our meals: they have lots of nutrients unavailable in other foods.  Plus, they taste good and add a bit of flair.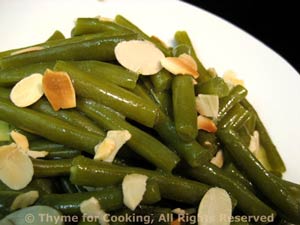 Ingredients:
6oz (180gr) green beans
1/4 cup (2oz, 60ml) chicken stock
1 tbs butter
1 tbs olive oil
1 clove garlic
2 tbs slivered almonds
 Instructions:
Top and tail beans.  Cut into 1 1/2" (4cm) lengths or leave long if small - nicer presentation. 
Put in small sauce pan or skillet with stock, put on medium heat and bring to a boil. 
Turn heat to low and simmer until done - about 10 minutes. 
Drain beans and put into a serving bowl. 
Heat butter and oil over medium heat in the same pan. 
Add garlic and almonds and sauté for 3 minutes. 
Return beans to pan and toss to coat.  Heat through and serve.