Warm Lentil Salad with Mustard Cream
Brined and Grilled Pork Tenderloin
Roasted New Potatoes
Asparagus with Lemon Sauce
Asparagus with Lemon Sauce
Total time: 15 minutes
    The Lemon Sauce is surprisingly similar in taste and consistency to Hollandaise.... Needless to say, much lower in fat and calories.  But the taste....  Lay white asparagus on the counter while peeling to prevent them from breaking.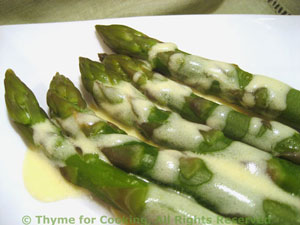 Ingredients:
10oz (300gr) asparagus, green or white

Lemon Sauce:

3 tbs plain yogurt
2 tbs fresh lemon juice
2 tsp Dijon-style mustard
1 tbs good olive oil
 Instructions:
Snap off ends of asparagus. If white use vegetable peeler and peel the bottom half of stalk.
 Put into a skillet big enough to hold them without cutting, add water to cover bottom by 1/4 inch, cover and bring to boil.
 Lower heat and cook just until done, 6 - 8 minutes, longer for white. 
When done drain and put into a serving dish, drizzle with Lemon Sauce and serve, hot or cold.
Lemon Sauce:
Whisk together yogurt, lemon juice and mustard.
Drizzle in oil, whisking.