Artichokes with Dill Dip
Shrimp Persillade over Pasta
Roasted Asparagus Balsamic
Roasted Asparagus with Balsamic and Soy Sauce
Total time: 15 minutes
    The soy sauce and Balsamic vinegar coat the asparagus, giving it a slightly sweet, slightly salty flavor.  You can do these on the grill, in a grill pan or roast them, tips toward the door, in the oven.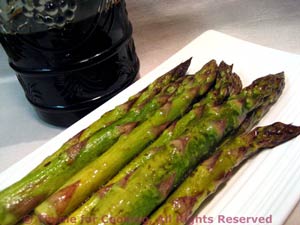 Ingredients:
12oz (360gr) asparagus 
1 tbs olive oil
1 tbs Balsamic vinegar
2 tsp soy sauce
 Instructions:
Snap off ends of asparagus. If white use vegetable peeler and peel bottom half of stalk, laying it flat on the counter to prevent breaking. 
In small bowl whisk olive oil, soy sauce and vinegar. 
Pour it onto a plate or the baking sheet and roll the asparagus in it, thoroughly coating (use your fingers!). 
Grill, using a pan, over indirect heat for 8 - 10 minutes, until lightly browned or roast in 400F (200C), oven for 10 - 15 minutes. 
Remove and serve.