Chicken, Spinach and Asparagus Salad
Total time: 20 minutes
      Based on an old-fashioned Egg Salad, this mayonnaise-based dressing coats the Asparagus Egg Salad nestled on a bed of spring greens and surrounded with slices of moist, poached chicken.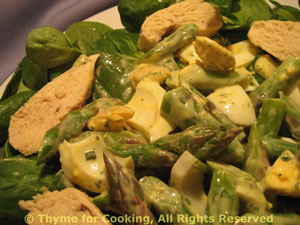 Ingredients:
 Instructions:
Cook eggs.
If using leftover Grilled Hens: 
Slice remaining meat off of the hens.
If using chicken breasts: 
Put chicken breasts in a skillet large enough to hold them easily. 
Add the stock and enough water to come half way up the sides of the breasts.  Cover and bring to a boil. 
Reduce heat and simmer until done, about 12 minutes.
Reserve stock for another use. Remove and slice.
The asparagus: 
Snap off ends of asparagus.  Cut asparagus into 1 inch (2.5 cm) lengths. 
Fill a large saucepan half full of water and bring to a boil over high heat. 
When boiling, drop in asparagus and parboil for 3 minutes. 
Drain and immediately refresh with cold water.
The rest: 
Prepare spinach; wash and spin dry if needed. 
Creamy Mayonnaise Dressing:
Mix all ingredients in a medium bowl.
To assemble: 
When eggs are done, peel and roughly chop. 
Add to the bowl with the dressing, along with the asparagus.  Stir gently to combine. 
Arrange greens on two plates. 
Spoon asparagus/egg salad in the center, dividing evenly. 
Arrange chicken around the edges.  Serve.