Warm Spring Pasta Salad with Grilled Chicken
Fresh Strawberries with Balsamic Vinegar
Warm Chicken Pasta Salad with Spring Vegetables   
Total time: 30 minutes
   I have always disagreed with most 'Pasta Primavera' as they are meant to celebrate spring but insist on using summer vegetables: tomatoes and peppers.  This is my version, using only spring vegetables.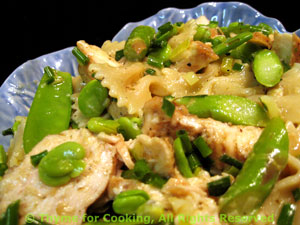 Ingredients:
6oz (180gr) green asparagus
4oz (120gr) snow peas, mangetout, pea pods
1/2  - 3/4 cup fava beans   

you'll need about 1lb (500gr) of pods to start with,    substitute edamame

4 green garlic, sliced, including green tops  

substitute 4 green onions

1 tbs oil
2 tbs fresh, snipped chives  

substitute 2 tbs dried - add to vinaigrette

1 1/4 cups (3.5oz, 100gr) farfalle pasta
Vinaigrette:
1 tbs Dijon-style mustard
1 1/2 tbs white Balsamic vinegar
4 tbs good olive oil
Grilled Chicken:
2 boneless, skinless chicken breasts
Marinade:
1 tbs red wine vinegar
1 tbs Worcestershire sauce
2 tbs olive oil
 Instructions
Cook pasta according to package directions. When done, drain well.
Mix marinade and pour over chicken.  Let marinate for 15 - 30 minutes.
Heat a sauce pan of water to boiling. 
Roll cut the asparagus into 1" (2.5cm) lengths. 
Trim the snow peas. 
Remove fava beans from the pods.
Blanch vegetables, one type at a time, in boiling water: asparagus for 3 minutes, snow peas for 2 minutes and fava beans for 2 minutes. 
Remove each from water and put into cold water. 
Shell fava beans (see notes).
Cook chicken on barbecue grill, 10 - 15 minutes, or until done or can be sautéed in skillet for about the same amount of time.
Remove and slice.
Whisk together mustard and vinegar for vinaigrette. 
Slowly drizzle in olive oil, whisking constantly.
To Assemble:
Heat 1 tbs olive oil in a large skillet over medium high heat. 
Add green garlic or onion, asparagus and  snow peas.  Stir-fry for 2 minutes, until hot and starting to brown. 
Add drained pasta and toss to heat through. 
Put into a large bowl, add fava beans, chives and sliced chicken. 
Pour vinaigrette over and toss well to combine. 
Serve.
Notes: 
Roll cut:  Cut the end off at an angle, roll 1/4 turn and slice at the same angle, roll 1/4 and slice, etc.  This gives you interesting looking pieces with lots of surface.  It's normally used on round vegetables: carrots, asparagus, etc.

Peel fava beans:  They peel like peas: break open the pod and take the beans out.  Don't bother with any really tiny ones.  After blanching they will have a whitish outer shell.  Just squeeze lightly and the inner, bright green bean will pop out.  It may split in half... that's okay.