Pesto Pasta Salad with Grilled Chicken
Leftover Zucchini and Tomato
Pesto Pasta Salad with Grilled Chicken
Total time: 25 minutes
     This is not the prettiest salad, pesto usually isn't... But the taste is wonderful: the feta and Greek Olives adding just the right amount of contrast to the chicken and pasta.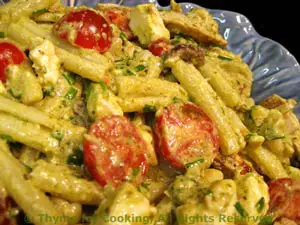 Ingredients:
 Instructions
Cook pasta according to package instructions. 
Chicken Breasts:
Mix Worcestershire, vinegar, basil and oil in a small bowl. 
Pour over chicken and allow to marinate a few minutes.
Salad:
Cut tomatoes in half. 
Cut feta into small cubes or crumble.
Pit olives, if needed, and cut in half or thirds.
Snip chives. 
Cook chicken, either on barbecue grill or nonstick skillet, 7 - 10 minutes per side, or until done. 
When done, remove and slice.
To finish:
In pasta bowl, mix pesto, oil and yogurt. 
When pasta is done drain, rinse lightly with cool water, drain well and add to pesto in bowl.  Toss to coat. 

Add chicken, tomatoes, olives, feta and chives, toss gently to combine and serv

e.
Note:  If using leftover chicken, cut into bite-size pieces and add to pasta.