Chicken Caesar Pasta Salad
Total time: 30 minutes
    I know the classic Caesar Salad is made with Romaine lettuce, and dressed with a raw egg, olive oil and lots of garlic.  This dressing lightens it, makes it a bit healthier, but still keeps the flavor of the original Caesar.  Plus, it makes a great main course for summer!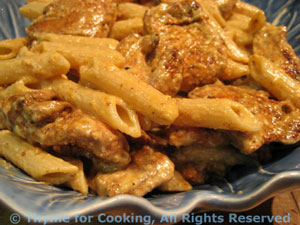 Ingredients:
2 chicken breasts, boneless, skinless
1 tbs chili powder
2 tbs Worcestershire sauce
1 1/4 cups (4.2oz, 125gr) pasta - fusilli, shells, penne
1 tbs good olive oil
Caesar dressing:
2 cloves garlic
1 tbs Dijon-style mustard
1 tbs lemon juice
1 tbs tarragon white wine vinegar
2 tsp Worcestershire Sauce
2 anchovy filets, mashed or 1 tsp anchovy paste (optional)
1/2 cup (4oz, 120gr) Greek or plain yogurt
2 tbs good olive oil
1 tbs snipped fresh chives
3 tbs Parmesan
 Instructions:
Cook pasta according to package instructions. 
When done, drain, put into a large serving bowl and toss with 1 tbs olive oil.
Mix chili powder, Worcestershire and garlic. 
Slice chicken breasts into bite size pieces or strips and toss with chili powder mixture. 
Cook on barbecue grill in a pan or sauté in nonstick skillet on stove.  Either way cooking time is 5 - 7 minutes over medium-high heat.
Caesar Dressing:
Mince garlic and put in small bowl. 
Add mustard, lemon, Worcestershire, vinegar and yogurt (and anchovies, if using) and mix well with wire whisk. 
Slowly drizzle in olive oil whisking constantly. 
Whisk in Parmesan and chives. 
To finish:
Add cooked chicken and 2/3 dressing to pasta and toss to mix.  (A tongs works great for this!)
After mixing taste and add rest of dressing if you like.  Serve.