Caprese Pasta Salad with Salami
Total time: 25 minutes
   Salami packs an enormous amount of taste into a very small package.  The Balsamic Vinaigrette enhances the sweetness of the salami and the mellowness of the mozzarella.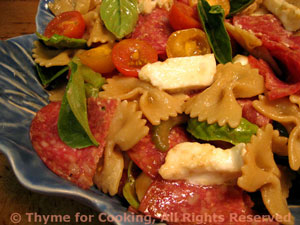 Ingredients:
4oz (120gr) salami
1 package (ball) mozzarella di Bufala (4oz, 120gr)
1/2 cup (3oz, 90) cup cherry or grape tomatoes
2 ribs celery
Fresh basil - about 1/2 cup of leaves
1 1/4 cups (4.2oz, 125gr) pasta, farfalle
1 tbs good olive oil
Balsamic Vinaigrette:
2 tsp Dijon mustard
1 tbs Balsamic vinegar
3 tbs salad olive oil
 Instructions:
Cook pasta according to package directions. 
Drain and toss with olive oil. 
Slice salami in quarters. 
Thinly slice celery. 
Cut tomatoes in half. 
Slice mozzarella, then cut into 1/2" (1.25cm) cubes. 
Tear large basil leaves, leave small ones whole. 
Make vinaigrette: 
Mix mustard and vinegar. 
Drizzle in olive oil, whisking constantly. 
Should be thick.
To assemble:
Add vinaigrette to pasta and toss to combine. 
Add tomatoes, celery, mozzarella, salami to pasta and toss lightly. 
Top with basil leaves and serve.