Beef, Chickpea and Feta Pasta Salad
Total time: 25 minutes
    Chock full of healthy foods: spinach, chick peas, herbs, feta and beef (yes, cheese and beef are healthy foods...) this salad really shouldn't taste nearly as good as it does.  You might want to make more - for leftovers!  You could use whole wheat pasta....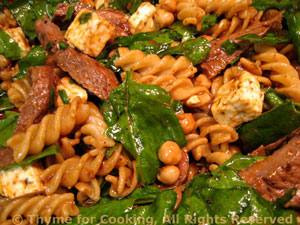 Ingredients:
1 1/4 cups (4.2oz, 125gr) bite-size pasta, rigatoni, penne, etc.
10oz (300gr) flank steak,
1 3/4 cups (15oz, 450gr) chickpeas
4oz (120gr) feta cheese
4oz (120gr) spinach leaves
2 tbs snipped chives or garlic chives  

substitute 1 tbs dried chives

2 tbs snipped basil                            

substitute 1 tbs dried basil

5 large fresh mint leaves, snipped, 

optional, substitute more basil

1 tbs ketchup
1 tbs soy sauce
1 tbs red wine vinegar
2 tbs olive oil
1 tsp chili powder
1 tsp dried oregano
Vinaigrette:
1 tbs tomato paste  

substitute ketchup

2 tbs Balsamic vinegar
2 tsp Soy sauce
6 tbs salad olive oil
1/4 - 1/2 tsp chili powder
 Instructions:
Cook pasta according to package instructions.  When done, drain and put into a large serving bowl.
Mix ketchup, soy sauce, vinegar, oil, chili powder and oregano for marinade. 
Spoon marinade over steak and let marinate.
Wash spinach if needed and tear leaves if large. 
Drain and rinse chickpeas. 
Cut feta into half inch cubes (1.25cm.) 
Make vinaigrette: Put all ingredients in small bowl and whisk well to combine.
Cook steak on barbecue grill or quickly sauté in nonstick skillet on stove.  Either way cooking time is 3 - 4 minutes over medium-high heat.  
Remove and let rest. 
Add herbs and spinach to pasta. 
Add vinaigrette and toss well to coat. 
Slice the steak diagonally across the grain. 
Add steak to pasta along with chickpeas.  Toss well to coat. 
Add feta and toss gently, just to combine.  Serve.
Note:  If using dried herbs rather than fresh add them to the vinaigrette.