Salad with Creamy Dressing, Tuna, Walnuts and Cheese
Crusty Whole Grain Bread
Salad with Creamy Dressing, Tuna, Walnuts and Cheese
Total time: 15 minutes
  This is a light, heart-healthy summer salad, with walnuts, greens, and a tangy dressing made with Greek Yogurt, reminiscent of 'Ranch', but lower in calories and all natural.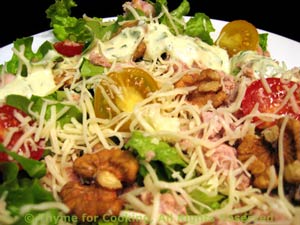 Ingredients:
greens: lettuce, spinach, mesclun, for 2 large salads
9oz (270gr) tuna
3/4 cup walnut halves
2 ribs celery
1/2 cup (3oz, 90gr) halved cherry tomatoes
1/3 - 1/2 cup Creamy Herb Dressing
1/2 cup shredded cheese - any flavor
Creamy Herb Dressing:
2/3 cup (5oz, 150ml) Greek or plain yogurt
1 tbs Dijon-style mustard
2 tbs white Balsamic vinegar
2 tbs fresh snipped garlic or regular chives
1 tbs fresh snipped oregano
3 tbs salad olive oil
 Instructions:
Prepare greens and put into a large salad bowl. 
Thinly slice celery, add to greens.
Add a bit of dressing and toss to coat (use tongs, it's easier). 
Taste and add more dressing if desired. 
Drain tuna. 
Cut tomatoes. 
Arrange tuna, tomatoes and walnuts on salad. 
Sprinkle with cheese and drizzle a bit more dressing.
Serve.
Creamy Herb Dressing:
Snip oregano and chives with scissors. 
In small bowl whisk yogurt, mustard and vinegar.
Add oil, a bit at a time and whisk well. Add herbs. 
 Note: This will keep a week... And makes a great dip for raw veggies.