Southwestern Salad with Grilled Sausages
Total time: 20 minutes
     The quinoa, corn, beans and peppers give this salad a 'southwestern' flavor.  The oregano, Greek olives and feta a Mediterranean flavor. An eclectic Salad!  It's equally good with turkey, chicken or sausages!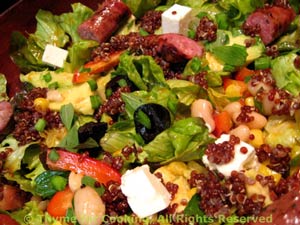 Ingredients:
8oz (240gr) sausages, any flavor
1/3 cup (2.3oz, 65gr) quinoa
2/3 cup (5oz, 150ml) chicken stock
8oz (240gr) sweet corn
8oz (240gr) white beans
1/2 red pepper
1 avocado
4oz (120gr) feta, crumbled
1/3 cup dry-cured Greek olives
2 tbs fresh oregano, snipped if large leaves
1 tbs fresh, snipped chives
Lettuce - enough for 2 main meal salads
Honey French Vinaigrette:
2 tbs ketchup
1 tbs red wine vinegar
1 tsp Dijon-style mustard
1/4 tsp paprika
1 tsp honey
3 tbs salad olive oil
 Instructions:
Put the quinoa and chicken stock in a small saucepan.  Cover and simmer until done, about 15 minutes. 
Honey French Vinaigrette:
Mix ketchup, vinegar, mustard and honey. 
Slowly add olive oil, whisking constantly. Set aside.
Open, drain and rinse the sweet corn and white beans.
Slice the pepper. 
Slice the avocado (see techniques). 
Cut the olives in half. 
Cube or cut the feta. 
Tear the lettuce and put into a large salad bowl along with the herbs. 
Cook the sausages on barbecue grill or sauté in nonstick skillet until done, 8 - 15 minutes, depending on size. 
Remove and cut into 1 1/2" (4cm) lengths.
To assemble:
Add half of the vinaigrette to the lettuce and toss well to coat. 
Add beans, corn, pepper and the rest of the vinaigrette, toss well. 
Add sausage, olive and avocado, toss gently. 
Sprinkle quinoa, feta on top and serve.
Note:  This could also be made with 10oz (300gr) turkey cutlets or chicken breasts.  Marinate for 10 - 15 minutes before cooking on the barbecue grill.  
 Ingredients:
Marinade for Turkey or Chicken
1 tbs Worcestershire sauce
1 tbs ketchup
1 tbs red wine vinegar
2 tbs olive oil
1/2 tsp chili powder
1/2 tsp garlic powder  
 Instructions:
Mix all ingredients well and spoon over meat. Let marinate for 10 - 15 minutes.
Cook on barbecue grill, 2 - 3 minutes per side for turkey cutlets, 7 - 10 minutes per side for chicken.