Chicken Caesar Salad
Total time: 25 minutes
     Grilled chicken and a yogurt dressing keep the calories down on this salad; the Parmesan and the anchovies keep the classic 'Caesar' flavor high.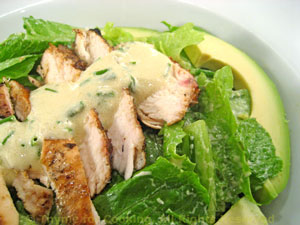 Ingredients:
 Instructions:
Mix chili powder, Worcestershire and garlic.
Rub over chicken. 
Cook chicken on barbecue grill or sauté in a nonstick skillet, 7 - 8 minutes per side, or until done. 
Remove and slice.
Clean lettuce. 
Put lettuce in large salad bowl tearing if necessary. 
Caesar Dressing:
Put mustard, lemon juice, vinegar, Worcestershire sauce and yogurt in small bowl and whisk well to combine.
Slowly add olive oil whisking constantly. 
Stir in garlic, Parmesan and anchovy paste, if using.  Dressing should be thick. 
Add chives and set aside.
To Finish:
Toss lettuce with some of the dressing. 
Arrange chicken and avocado on top. 
Drizzle a bit of dressing over all, sprinkle with Parmesan and serve, remaining dressing (and anchovies) on the side.