Asian Chicken and Cabbage Salad
Total time: 30 minutes
   Shredded cabbage with a creamy peanut butter dressing is the base for this chicken salad.  Sprinkled with sliced (or slivered) almonds and sesame seeds, it has a definite 'Asian' flavor.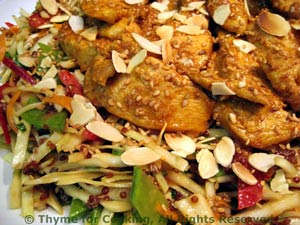 Ingredients:
The Chicken:
2 chicken breasts, boneless, skinless
1 tbs soy sauce
1 tbs walnut or sesame oil
1 tbs peanut butter
1 tbs sherry vinegar
2 tbs olive oil
1/2 tsp chili powder
1/4 tsp dried, powdered ginger
1/2 tsp garlic powder
The Salad:
1/3 cup (2.4oz, 65gr) quinoa
2/3 cup (5oz, 150ml) chicken stock
3 cups shredded cabbage
1 carrot
1/2 green or red bell pepper
3oz (90gr) snow peas (mangetout)
1 tbs fresh snipped chives   

substitute 1 tsp dried

1 tbs toasted sesame seeds
1/4 cup sliced almonds
Peanut Dressing:
1 tbs brown sugar
2 tbs peanut putter
3 tbs sherry vinegar
1 tbs fresh parsley    

substitute 2 tsp dried

1 tbs oil - sesame or walnut
2 tbs salad olive oil
1 tbs soy sauce
 Instructions:
Cook quinoa in stock for 15 minutes, fluff when done and set aside.
The chicken:
Put soy sauce, walnut oil, peanut butter, vinegar, 1 tbs olive oil, chili powder, ginger and garlic in a small bowl.  Whisk well to combine.
Slice chicken breasts into strips and toss with marinade. 
Allow to marinate for 15 minutes while you make the rest of the salad. 
When ready, heat remaining 1 tbs olive oil in a nonstick skillet over medium-high heat. 
When sizzling, add chicken and stir-fry 4 - 6 minutes, or until done. 
The salad:
Shred cabbage: cut a slice off of the head, lay the slice cut side down, cut into 4ths, then, cutting across, slice very finely: 1/16" - 1/8" (.3cm).  Do not use the core of the cabbage - you'll recognize it when you see it.  
Slice the carrot into paper thin strips using the vegetable peeler.  
Julienne the pepper. 
Trim snow peas and slice, at an angle, into pieces about 3/4" (2cm) long. 
Snip chives. 
Make the

Dressing. 

To assemble:
Put cabbage, carrot, pepper, snow peas and chives into a large salad bowl. 
Add the dressing and toss well. 
Add quinoa, and toss to combine. 
Allow to rest and the flavors to blend while cooking the chicken. 
When the chicken is done, arrange on the salad, sprinkle with sesame seeds and almonds, serve.
Peanut Dressing:
Put all ingredients in small bowl and whisk well.
Note: Toast sesame seeds in a dry, nonstick skillet, over medium-high heat, 3 - 6 minutes. Start flipping them or shaking the skillet after 1 - 2 minutes and remove as soon as light brown.