Creamy Cabbage Salad
Total time: 10 minutes 
    I always think of cabbage salad as summer picnic food.  I am trying to expand my horizons.  Plus, when eating seasonally, there are not a lot of salad choices in winter.  This is a simple, yogurt-based dressing rather than the usual mayonnaise base.  The carrot is optional, but I love the color!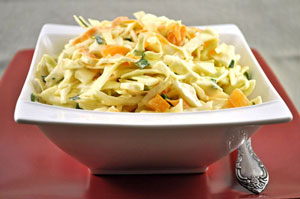 Ingredients:
3 cups shredded cabbage 
1 carrot
Creamy Yogurt Dressing:
1/2 cup Greek yogurt (4oz, 120gr)
2 tsp Dijon-style mustard
1 tbs white Balsamic Vinegar
1 tsp dried Herbes de Provence
1 tbs fresh, snipped chives or 1 tsp dried
2 tbs salad olive oil
 Instructions:
Shred cabbage: cut a slice off of the head, lay the slice cut side down, cut into 4ths, then, cutting across, slice very finely: 1/16" - 1/8" (.3cm).  Do not use the core of the cabbage - you'll recognize it when you see it.  
Slice the carrot into paper thin strips using the vegetable peeler. 
Put cabbage and carrot into a large bowl. 
Creamy Yogurt Dressing:
In small bowl whisk yogurt, mustard and vinegar. 
Add oil, a bit at a time and whisk well. 
Add herbs. 

This will keep a week.

Add half of the dressing and toss well to combine.  Add more dressing according to taste and the amount of cabbage.