Tangy Coleslaw (Cabbage Salad)
Total time: 15 minutes
  Another salad from my mother's collection.... But I'm pretty sure she got it from a local restaurant as the original recipe made 8 quarts!  I cut it down a bit, and made a change or two to make it easier for the home chef. This coleslaw was almost as famous as the Fish Fry!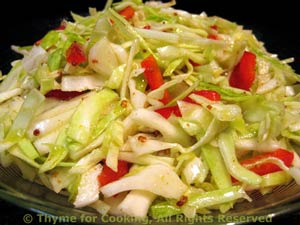 Ingredients:
3 cups shredded cabbage

about 1/2 of a small - medium head

1/2 red or orange pepper
Tangy Coleslaw Dressing:

8 tbs olive oil

8 tbs sugar

3 1/2 tbs cider vinegar

3/4 tsp whole grain mustard

1/4 tsp celery seed or powder

 

optional
  Instructions:
To shred cabbage

: cut a slice off of the head, lay the slice cut side down, cut into 4ths, then, cutting across, slice very finely: 1/16" - 1/8" (.3cm).  Do not use the core of the cabbage - you'll recognize it when you see it.  
Slice the pepper thinly, then cut the slices into 1/2" (1cm) pieces. 
Put cabbage and pepper into a large bowl. 
Add half of the dressing and toss well to combine. 
Add more dressing according to taste and the amount of cabbage.
Tangy Coleslaw Dressing:
Put all of the ingredients in a medium bowl.
Using as large a whisk as you have (and is reasonable), vigorously whisk ingredients together.  The sugar will dissolve and the dressing get very thick and clear.  
Note: Use food processor for slicing if you have one.  Slice thinly or shred coarsely.