Artichokes with Creamy Balsamic Vinaigrette
Prosciutto Wrapped Chicken on Pimiento Sauce
Risotto with Fava Beans
Risotto with Fava (Broad) Beans 
Total time: 25 minutes
    Another classic Italian dish for spring.  It would normally be served as a first course (as are all pasta and rice dishes in Italy) but I like it as creamy side dish.  Fava beans are only with us a short time in the spring.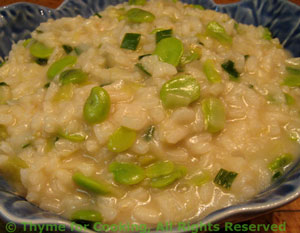 Ingredients:
1/2  - 3/4 cup fava (broad) beans 

you'll need about 1lb (500gr) of pods to start with  

    

substitute edamame (soy beans)

1/3 cup (2.1oz, 60gr) Arborio rice (or other rice specifically for risotto - Carnaroli or Vialone Nano)
1/3 cup (3oz, 90ml) dry, white wine
1 1/4 cups (10oz, 300ml) chicken stock
2 green garlic  

substitute green onion and 1 clove garlic

1 tbs butter
1/3 cup (1.5oz, 45gr) Parmesan cheese - freshly grated
 Instructions:
Heat chicken stock and keep hot over low heat. 
Trim and thickly slice green garlic, using as much green as possible.
Peel fava beans.  Can be done earlier
In medium sauce pan heat butter; add green garlic, rice and sauté, stirring, for 2 - 3 minutes until rice has white center. 
Add white wine and stir. 
When wine is almost absorbed add a 1/4 cup of stock and stir.  
When the rice has almost absorbed the stock add another 1/4 cup and stir.  Add the fava beans or edamame with the next 1/4 cup of stock.  Continue adding stock, 1/4 cup at a time, and stirring. 
Before the last 1/4 cup is added taste a few kernels of rice.  They should be just 'al dente' - slightly resistant to the tooth but fully cooked.  You may not need the last 1/4 cup.  If more stock is needed add it 1/8 cup at a time and waiting until almost completely absorbed.  At this point risotto will be thick but not stiff - it will not hold it's shape on a plate. 
Stir in the Parmesan.  
Spoon into a bowl and serve immediately. 
Peel fava beans: It's a bit like peas.  Break open the pod and take the beans out.  Don't bother with any really tiny ones.  Blanch in rapidly boiling water for 2 minutes. Drain and put into cold water.  After blanching they will have a whitish outer shell.  Just squeeze lightly and the inner, bright green bean will pop out.  It may split in half... that's okay.