Warm Spinach, Chickpea Salad with Goat Cheese
Bacalao a la Marinera (Fisherman's Cod)
Risi e Bisi
Risi e Bisi
Total time: 25 minutes
    This classic Italian dish is normally served as a first course (as are all pasta and rice dishes in Italy).  We think it makes a great, creamy side dish.  The original is more like a thick soup, but I made this a bit thicker.  Still, like all risottos, it should be creamier than the American adaptations, not holding it's shape on a plate.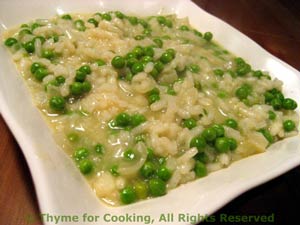 Ingredients:
 Instructions:
Heat chicken stock and keep hot over low heat. 
Finely chop onion.
In medium sauce pan heat butter; add onion and sauté until transparent.
Add rice and sauté, stirring, for 2 - 3 minutes until rice has white center. 
Add white wine and stir. 
When wine is almost absorbed add a 1/4 cup of stock and stir. 
If the peas are frozen add to the stock (not the rice) now. 
When the rice has almost absorbed the stock add another 1/4 cup stock and the peas if they are fresh. 
Continue adding stock, 1/4 cup at a time, and stirring. 
Before the last 1/4 cup is added taste a few kernels of rice.  They should be just 'al dente' - slightly resistant to the tooth but fully cooked.  You may not need the last 1/4 cup. 
If more stock is needed add it 1/8 cup at a time and waiting until almost completely absorbed.  At this point risotto will be thick but not stiff - it will not hold it's shape on a plate. 
If using frozen peas, strain them from any remaining stock and add now.
Stir in the Parmesan.  
Pour into a bowl and serve immediately.