Sautéed Endive with Avocado
Scallops Provençal
Quinoa with Browned Shallots
Brussels Sprouts with Lemon Butter
Quinoa with Browned Shallots
Total time: 25 minutes
   This near-perfect food of the Incas has slowly been gaining recognition in the culinary world. It cooks quickly and has a nutty flavor that goes with everything. The browned shallots add a dark, mahogany color to the quinoa and a bit of sweetness.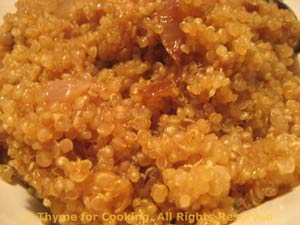 Ingredients:
1/2 cup (3.5oz, 100gr) quinoa
1 cup (8oz, 240ml) chicken stock
2 medium shallots
2 tsp olive oil
 Instructions:
Peel and roughly chop shallots.
Heat oil in a small saucepan. 
Add shallots and sauté until brown, about 10 minutes.
Add quinoa, stock, cover and bring to a boil.
Reduce heat and simmer until done, about 15 minutes  (or whatever your package says). 
When done, fluff and serve.