Grilled Chicken Breasts with Honey Mustard
Quinoa
Sautéed Zucchini (Courgette) with Red Pepper
Quinoa
Total time: 20 minutes
    Quinoa is very high in protein and "contains a balanced set of essential amino acids for humans, making it an unusually complete food" according to Wikipedia.  It's also easy to cook and tasty - what more could we want? You can substitute Basmati or Jasmine rice.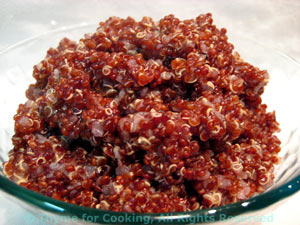 Ingredients:
1/2 cup (3.5oz, 100gr) quinoa
1 cup (8oz, 240ml) chicken stock
 Instructions:
Rinse quinoa if needed (most comes washed). 
Combine quinoa and stock in small saucepan.  Cover and bring to a boil. 
Reduce heat and simmer until done, about 15 minutes  (or whatever your package says).   Serve.
Note: Quinoa comes in black, red and tan.....  At least that's all I've found to date...