Spinach Salad with Warm Chevre Sautéed
Scallops with Pesto
Parmesan Polenta
Sautéed Snow Peas (Mangetout)
Parmesan Polenta
Total time: 10 minutes
    Check the package directions for quantity proportion - you may have to add more (or less) liquid to get a soft consistency.  It can be adjusted at the end, before serving.   This should be like mashed potatoes.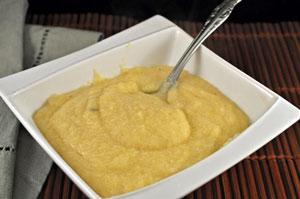 Ingredients:
1 cup (8oz, 240ml) chicken stock
1/4 cup (1.5oz, 45gr) polenta, quick-cooking
1/4 cup (1oz, 30gr) Parmesan, grated
2 tbs milk 
nutmeg
 Instructions:
Heat stock in a small sauce pan over medium heat. 
When stock is simmering slowly pour in polenta, whisking constantly.
Cook, stirring, about 5 minutes or until done.
Add milk or stock, Parmesan and a pinch of nutmeg. 
Cover, keep warm and let sit 5 minutes.  Serve.