Hunter's Eggs
Baked Salmon with Lemon Mayonnaise
Creamy Polenta with Bacon and Sage
Broccoli with Butter and Herbs
Creamy Polenta
Total time: 15 minutes      if using quick-cooking polenta
    Check the package directions for quantity proportion - you may have to add more (or less) liquid to get a soft consistency.  It can be adjusted at the end, before serving.   This should be like mashed potatoes.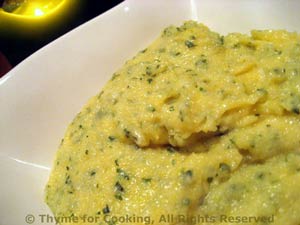 Ingredients:
 Instructions:
Heat stock and herbs in a small sauce pan over medium heat.
When stock is simmering slowly pour in polenta, whisking constantly. 
Cook, stirring, about 5 minutes or until done.
Add milk (or stock) to thin, a pinch of nutmeg and cheese.

Cover and let sit 5 minutes.  Serve. 

Can be kept warm over very low heat

.