Grilled Ham with Red Eye Glaze
Pasta with Red Bean and Herbs
Pasta with Red Bean and Herbs
Total time: 25 minutes
     Pasta, with red beans and fresh herbs, lightly dressed with a simple vinaigrette makes a perfect accompaniment to grilled meats.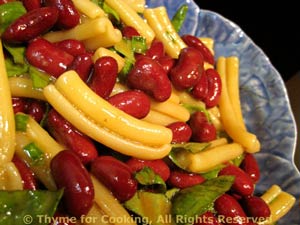 Ingredients:
1 cup (3.3oz, 95gr) dried pasta -

fusilli, penne

1 3/4 cup (15oz, 450gr) red beans
2 tbs snipped fresh herbs  

oregano, basil, chives, parsley

Vinaigrette:
1 tbs soy sauce
3 tbs tarragon white wine vinegar
2 tbs salad olive oil
1 tbs walnut or sesame oil
 Instructions:
Cook pasta according to package instructions.  Drain. 
Drain and rinse beans.
Snip herbs.
Make vinaigrette:
Mix soy sauce and vinegar in a small bowl.
Add oils and whisk - mixture will not emulsify (thicken) but should be well blended.
To finish:
Put beans, herbs and vinaigrette into a large bowl. 
When pasta is done, drain and add.
 Stir well to mix and serve.