Pork Chops Diablo, Grilled
Grilled Pepper Pasta Salad
Grilled Pepper Pasta Salad
Total time: 25 minutes
    Grilling peppers and onions adds a layer of sweetness not found with simple frying.  If you don't do them on the grill, roast them on a baking sheet in a 400F (200C) oven for 30 minutes, stirring once.  They should be just slightly crispy around the edges in spots when done.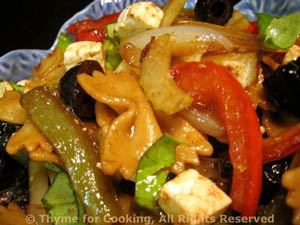 Ingredients:
1 cup (3.3oz, 95gr) bite-size pasta - penne, fusilli, etc. 
1 bell pepper, green or any color
1 large onion
1 tbs olive oil
1 tbs Balsamic vinegar
1/2 cup (3oz, 90gr) black, dry-cured, Greek olives
2 ribs celery (about 1/2 cup)
2 tbs fresh snipped basil
2oz (60gr) feta cheese (about 1/3 cup)
Vinaigrette:
3 tbs salad olive oil
1 tbs Balsamic vinegar
2 tsp Dijon-style mustard
 Instructions:
Cook pasta according to package directions. 
When pasta is done drain well, rinse briefly with cold water, drain well again, and put into a large bowl.
Slice peppers and onions thickly. 
Put olive oil and Balsamic vinegar in a large bowl, add peppers, onions, and toss well to coat. 
Put into 'grill pan' (a metal or foil pan dedicated to use on the grill) or onto a mesh grill pan (the idea is not to have the stuff fall through the grate into the fire....)
Cook over medium heat on barbecue grill for 10 - 15 minutes, until they have a nice color.
Snip large basil leaves, leave small ones whole. 
Cut olives in half. 
Slice celery at an angle.
Cube or crumble feta.
Vinaigrette:
Put mustard into a small bowl, add vinegar and whisk, 
Slowly drizzle in olive oil, whisking constantly until thick. 
To finish:
Add peppers, onions, celery, basil, olives, feta and vinaigrette to pasta.  Toss gently to combine.