Pasta with Creamy Goat Cheese
Total time: 30 minutes
  A simple sauce of goat cheese and fresh chives makes a light pasta side dish.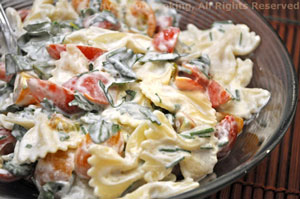 Ingredients:
 Instructions:
Cook pasta according to package directions.  Drain.

While pasta cooks: 

Heat stock in a small saucepan. 
Add goat cheese and stir until cheese is melted. 
Remove from heat and add herbs. 
Cut cherry tomatoes into quarters.

To finish:

Pour sauce over pasta, add cherry tomatoes, stir well and serve.