Avocado Salad
Baked Salmon with Mustard Cream
Creamy Orzo with Prosciutto
Hot Spinach Salad
Creamy Orzo with Prosciutto
Total time: 25 minutes
   The orzo is cooked in a minimum of liquid, so the starch, that is normally lost during cooking, turns into a creamy sauce, aided by some freshly grated Parmesan.  One thin slice of Prosciutto adds a distinctive finish.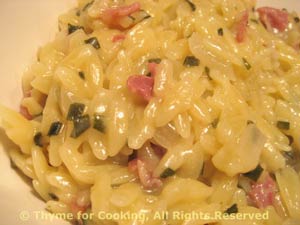 Ingredients:
1 tbs butter
1/2 onion
1/2 cup (4.5oz, 130gr) orzo
1/2 cup (4oz, 120ml) white wine
3/4 cup (6oz, 180ml) chicken stock
1 slice prosciutto
1/2 cup (2oz, 60gr) fresh Parmesan cheese, grated
1 tbs dried or fresh chives
 Instructions:
Finely chop the onion. 
Roughly chop the Prosciutto. 
Melt butter over medium heat in a small saucepan.  Add the onion and sauté until tender, about 5 minutes. 
Add orzo and cook for 1 minute, stirring constantly. 
Add wine, stock, Prosciutto, and bring to a simmer on medium heat. 
Turn heat to low and simmer until done, stirring occasionally, about 15 minutes.  All stock will be absorbed. 
Stir in cheese and chives. 
Remove from heat and serve.  This will be creamy, not stiff.