Orzo with Browned Butter
Total time: 25 minutes
   The orzo is made like traditional pasta, cooked in a large volume of boiling water, drained and finished with a sauce - in this case, simple Browned Butter.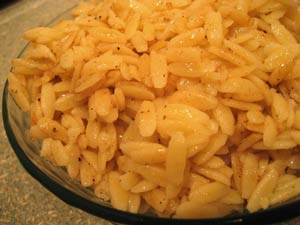 Ingredients:
1/2 cup (4.5oz, 130gr) orzo
1 tsp olive oil
4 tsp butter
salt and pepper - if desired
 Instructions:
Cook orzo in a large pot of boiling water, the same as any other pasta.
When done drain and toss with olive oil.
Return pan to medium heat.  Add butter and sauté until it turns golden brown, being careful not to let it turn too dark or it will taste burnt.
When brown add as much black pepper as you like, and salt if using.  The butter will foam.
Add the orzo and quickly stir with a spatula to coat and heat through.
Remove from pan and serve.