Oriental Orzo
Total time: 25 minutes
   This is so easy to make, put everything in the pan and cook, yet the flavors are complex and pair well with roasted salmon or chicken with an Asian flavor.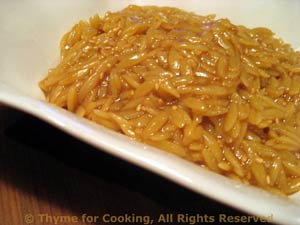 Ingredients:
1/2 cup (4.5oz, 130gr) orzo
1 1/4 cups (10oz, 300ml) chicken stock
4 tsp soy sauce
1 tsp brown sugar
2 tsp sesame oil - or walnut oil
2 tsp sesame seeds
 Instructions:
Put orzo, brown sugar, soy sauce and stock in a small pan and bring to a simmer on medium heat. 
Turn heat to low and simmer until done, stirring occasionally, 15 - 20 minutes.  All stock will be absorbed. 
Stir in sesame oil and seeds and serve.