Pimientos Stuffed with Ham and Chevre
Red-Cooked Salmon with Peanut Sauce
Fried Rice with Broccoli
Fried Rice with Broccoli
Total time: 30 minutes
   Traditional Fried Rice is made with cold, leftover white sticky rice.  This is a variation using fresh Basmati and Broccoli.  The scrambled egg stays with the tradition.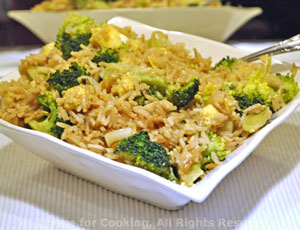 Ingredients:
1/2 cup (3.3oz, 95gr) Basmati rice
1 cup (8oz, 240ml) chicken stock
4 - 6 green onions (scallions)
1/2 head medium - large broccoli
1 egg
2 tsp sesame oil
2 tsp olive oil
1 tbs soy sauce
1 tbs sherry
 Instructions:
Cook rice in stock until done.
Remove from heat and uncover to cool slightly.
Cut broccoli into small florets and stem pieces.
Put broccoli into a large nonstick skillet with 1/4 inch of water.  Bring to a simmer, cover and cook 5 minutes.
Remove broccoli to plate, drain skillet.
Clean green onions: slice off the root, remove 1 layer of skin.  Slice into 1/3" (1cm) long pieces.
Put egg into a small bowl and lightly beat with a fork.
Heat half of the oils in the skillet over medium-high heat.
Add egg and scramble.  Remove to a plate.
Heat remaining oils, add onions, broccoli and stir-fry 5 minutes.
Add rice, soy sauce and sherry.  Stir well to combine and stir-fry for 5 minutes.
Break scrambled egg into chunks, stir into rice and serve.