Grilled Turkey Cutlets Piccata
Couscous with Tomatoes and Basil
Sautéed Zucchini (Courgette) with Feta and Olives
Couscous with Tomatoes and Basil
Total time: 15 minutes
    Simple couscous finished with garden-ripe tomatoes, fresh basil and a light vinaigrette- easy and delicious!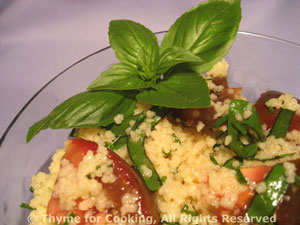 Ingredients:
1/2 cup (3oz, 90gr) couscous
3/4 cup (6oz, 180ml) chicken broth
1 medium ripe tomato, any color
2 tbs snipped basil
1 tbs salad olive oil
1 tbs white Balsamic vinegar
1/4 tsp Dijon-style mustard
 Instructions:
Heat chicken broth to a boil. 
Put couscous in a medium bowl. 
When broth is boiling pour over couscous, cover and let stand for 10 minutes... Do not stir it.
Snip basil. 
Slice tomato then cut slices into quarters. 
Whisk mustard, oil and vinegar together in a small bowl. 
When couscous is ready, add tomato, basil, vinaigrette, fluff gently with a fork to combine and serve.