Baked Goat Cheese with Dates and Nuts
Braised Lamb with Chickpeas and Butternut Squash
Simple Couscous
Simple Couscous
Total time: 15 minutes
    This is couscous at it's simplest:  just a bit of herbs and oil, the perfect dish to accompany a sauced fish or meat...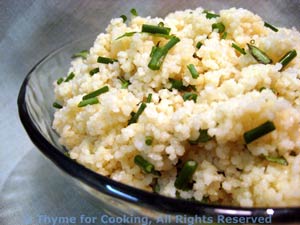 Ingredients:
1/2 cup (3oz, 90gr) couscous
3/4 cup (6oz, 180ml) chicken broth
2 tbs snipped chives
1 tbs snipped basil
2 tsp good olive oil
 Instructions:
Heat chicken broth to boiling. 
Put couscous in a medium bowl. 
When broth is boiling pour over couscous, cover and let stand for 10 minutes... Do not stir it.  
Add herbs and oil to couscous, fluff gently with a fork to combine and serve.