Sesame Brown Rice with Snow Peas (Mangetout)
Total time: 30 minutes
     A cross between a stir-fry and a pilaf, the snow peas and red pepper add color and crunch to brown rice.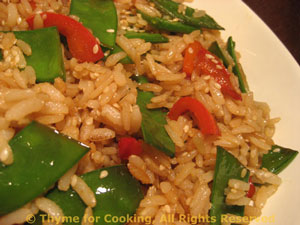 Ingredients:
 Instructions:
Cook rice in chicken stock according to package instructions.
Clean pea pods - snip off the stem end.  Cut large pods into pieces, at an angle, if desired. 
Cut red pepper into matchsticks.
When rice is almost done:
Toast sesame seeds. Remove.
Heat butter and sesame oil in a large nonstick skillet over medium heat.  
Add pea pods, red pepper, soy sauce and sauté 5 - 7 minutes, stirring frequently. 
Add brown rice and stir-fry quickly. 
Sprinkle with sesame seeds and serve.
To toast regular sesame seeds:  Put them into a dry, nonstick skillet over medium heat.  Toss or stir them about in the pan until lightly golden, 2 - 4 minutes.