Deviled Pork Chops, Grilled
Brown Rice Salad with Green Beans
Tomato Garlic Salad
Warm Green Bean and Brown Rice Salad 
Total time: 30 minutes
    I use 'Uncle Ben's' which is all I can get and it's quick cooking.  It looks like brown Basmati and cooks in 15 minutes.  You can use regular Basmati if you prefer.  This salad is good warm or cold, so timing is not an issue.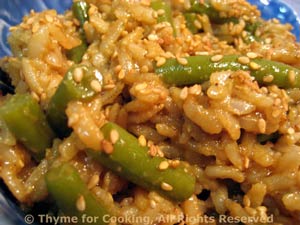 Ingredients:
 Instructions:
Note: Toast sesame seeds in a dry, nonstick skillet, over medium-high heat, 3 - 6 minutes. Start flipping them or shaking the skillet after 1 - 2 minutes and remove as soon as light brown.